Training Module Five: Intro And Lesson Links
Introduction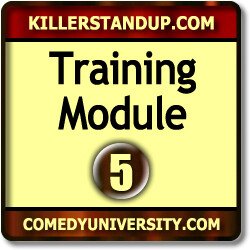 At this juncture in the course you should have at least several stand-up comedy topics identified and initially structured for use on the stage.
In other words, you should already have the solid beginnings of the "road map" that you will use as the foundation of your stand-up comedy act — one that incorporates your natural expressive comedy traits identified in Training Module Two.
In this Training Module I'm going to show you how to tighten that material you have to the maximum extent possible, making sure that you have 4-6+ punchlines for every minute of stand-up comedy material you generate.
I will also be revealing the common punchline structure that most punchlines have that contribute to the element of surprise and will give them the maximum laughter generation impact.
Once you have completed this Training Module, you should have at least 3-7 minutes of tightly structured stand-up comedy material that you can take into the professional rehearsal phase covered in the next Training Module.
Training Module Five Lesson Links
Here are the links to the three lessons in Training Module Five: